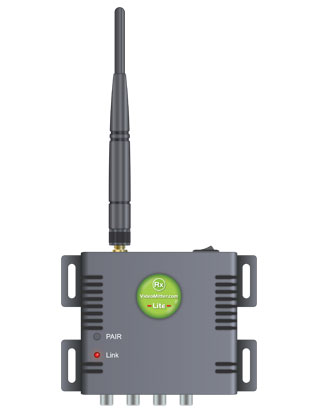 VideoMitter Lite Digital Transceivers
Monitor Video and Sound

Up to 1.2km without wires!
Digital Data Transmission

for cleaner, sharper images over longer distances
Privacy Pairing Function

for private video transmission, helping comply with the DPA
Video and Audio Loopthroughs

for adding an extra monitor with sound at either end of the transmission
Whisper Mode

listens for data at a low power for energy efficiency
The VideoMitter Lites is a new edition to the VideoMitter range.
The VideoMitter Lite has all the video and audio transmission functions of the ever popular MITKIT but without the IR reverse transmission.
What's more, it has the added benefit of video and audio loopthroughs on each unit to allow an extra monitor at both transmission ends.
Compatible with analogue.
Please note, There is no IR transmission with the Lite version and the audio is mono.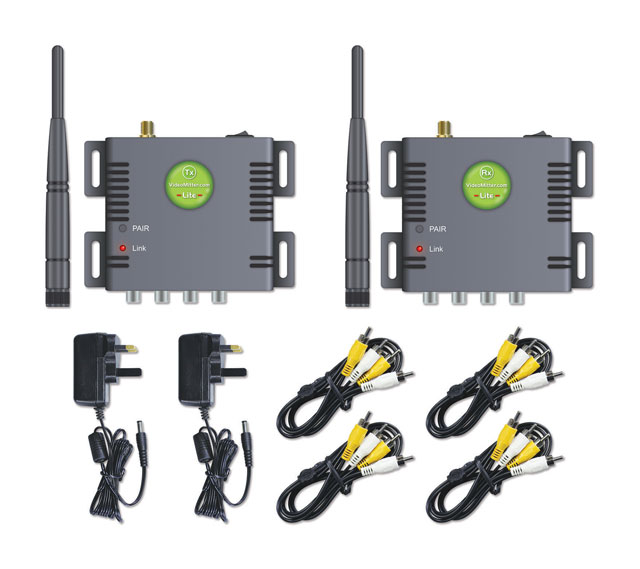 MITKIT-LITE: Tx and Rx unit with antennas, x4 Phono AV Cables and x2 12V DC PSUs.
Specification
2.4Ghz Frequency
Up to 1.2km (with additional antenna)
12V DC - Terminal Strip
Current - 260mA
PSU Supplied
Video Connection - 1x Phono Input
Audio Connection - 1x Phono Inputs
Antenna - RP SMA Female
Unit Size-115 x 80 x 25mm